Order tags
Using text templates, static text can be freely combined with variables that pull information from the Tags section of your shop's orders.
A Shopify order can contain many tags, so you must specify which ones you want displayed on the label.
How to use a text template to show tags from your orders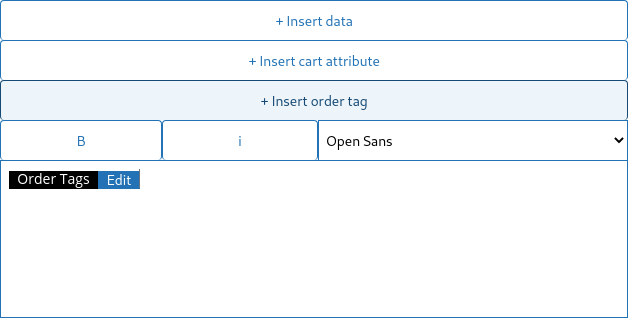 Drag and drop a "Text Template" or "Text Template (Auto Wrap)" from the left-hand toolbar (under "Add Element").
In the right-hand toolbar that appears, click in the large box meant for editing text.
Click the "+ Insert order tag" button.
A block representing the order tag will be inserted into the text editor at the cursor location. Click the block's "Edit" button to specify which order tags to be displayed. Multiple order tags can be entered by separating them with commas. When printing, an order tag will be displayed if a matching one is found in the order's tags section.
Text appearance
Font settings for the order tag variable can be set the same as static text. The block's background color will become yellow when selected.