Include data from your orders
Using text templates, static text can be freely combined with template variables that pull information from your shop's orders.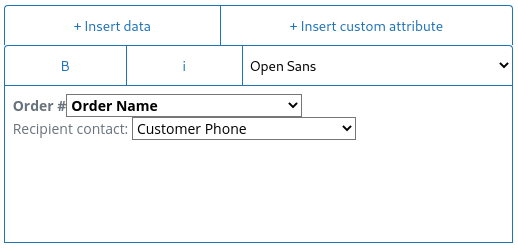 How to use a text template to show data from your orders
Drag and drop a "Text Template" or "Text Template (Auto Wrap)" from the left-hand toolbar (under "Add Element").
In the right-hand toolbar that appears, click in the large box meant for editing text.
Click the "+ Insert Data" button.
A dropdown will be inserted into the text editor at the cursor location. From the dropdown, select the variable representing the desired information from your orders.
Text appearance
Font settings for the variable dropdown can be set the same as static text. The dropdown's background color will become yellow when selected.
What is the difference between the telephone number variables?
A Shopify order can contain multiple telephone numbers.
Phone

The telephone number associated with the order.

Customer phone

The telephone number from the customer's profile.

Mailing address phone

The telephone number associated with the address, which is the order's shipping address (or the customer's default address if the shipping address is not available).