Custom attributes
Using text templates, static text can be freely combined with custom attribute variables that pull information from your orders custom attributes.
Custom attributes are sometimes also called "cart attributes" or "order notes".
How to use a text template to show a custom attribute from your orders
Drag and drop a "Text Template" or "Text Template (Auto Wrap)" from the left-hand toolbar (under "Add Element").
In the right-hand toolbar that appears, click in the large box meant for editing text.
Click the "+ Insert custom attribute" button.
A block representing the custom attribute will be inserted into the text editor at the cursor location. Click the block's "Edit" button to assign the key to a specific custom attribute. Custom attributes are a set of key to value mappings, so the app will prompt you to enter the key for the particular custom attribute you want to include from your orders.
As a placeholder, the preview displays the custom attribute key in brackets. When applied to one of your orders during printing, the value corresponding to the custom attribute for that key will be displayed instead.
Text appearance
Font settings for the custom attribute variable can be set the same as static text. The block's background color will become yellow when selected.
What is the custom attribute key?
Custom attributes are a set of key/value pairs allowing an application to retrieve a value by referencing the key.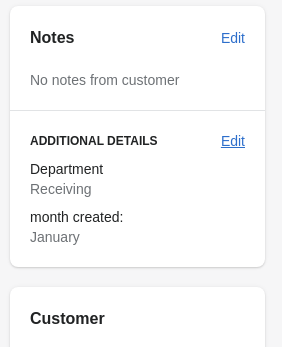 Using this order as an example, to display "Receiving" on your label, you would set the key for the custom attribute you added in the label design editor to "Department" (minus quotes). Likewise, setting a custom attribute key to "month created:" (minus quotes) would cause "January" to show up on the label.
The key you assign in the label design editor must exactly match the key in your orders, case sensitively.